Whole Chicken Crock Pot Recipes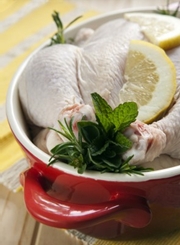 Here we have compiled our favorite whole chicken crock pot recipes. Buying a whole chicken is less expensive per pound of meat than purchasing breasts or thighs. Here are a bunch of quick and easy ways to use that wonderful, organic, whole chicken you just purchased.
Slow cookers are wonderful for working parents who want to provide healthy meals for family dinners. Although they cook food slowly, they allow you to fix-it-and-forget it. Once your ingredients are in your crock pot, there is no stirring or additional attention necessary until your food is ready for the table.
Our Three Favorite Whole Chicken Crock Pot Recipes
Philippine Chicken
We love how simple, yet tasty, this recipe is! Definitely a favorite with young kids!
Ingredients
1 whole chicken, cut up
1 cup water
1/2 cup vinegar
1/4 cup soy sauce
2 cloves garlic, sliced
1 bay leaf
Procedure
Put all ingredients in your crock pot.
Cook for 6 to 8 hours on low.
Remove Bay leaf.
Serve over rice.
Slow Cooked Chicken with Potatoes
Potatoes, yams and chicken are combined in a lightly spicy long-simmered sauce. Prepare this meal in the morning and let simmer all day to bring out the flavor. Definitely our all time favorite whole chicken crock pot recipes.
Ingredients
2 potatoes, peeled and sliced
2 yams, peeled and sliced
2 (3½-lb.) fresh whole chickens, cut up
1 (14.5-oz.) can whole tomatoes, drained and crushed
1 jalapeño pepper, seeded and diced
1 tsp salt
1/2 tsp ground black pepper
1 1/2 cups water
1 (10-oz.) package frozen peas
Procedure
In a slow cooker or crockpot, layer potatoes, yam, chicken and tomatoes; add green chili pepper. Sprinkle with salt and pepper. Add water.
Cover and cook five hours on low.
Add peas and heat thoroughly 10 minutes more. Serve hot.
Information
Servings: 8
Preparation time: 20 minutes
Cooking time: 5 hours and 10 minutes
More Whole Chicken Crockpot Recipes
Tips to use when making Whole Chicken Crock Pot Recipes
Tips to use when making Whole Chicken Crock Pot Recipes
Avoid lifting the lid while cooking because it will release the steam and lower the temperature in your slow cooker by over 15 degrees, setting the cooking back by up to 20 minutes.
Fill our slow cooker at least half full for best results.
Be sure to defrost big chunks of meat before using in your crock pot. They will take much longer to cook and may not heat fast enough to prevent bacterial growth.
Spread out the preparation if you are rushed in the morning by preparing all or part of your whole chicken crock pot recipes the night before and refrigerating it in the crock overnight. In the morning, simply place the crock into your cooker, add any remaining ingredients and turn in on. Don't turn it on before inserting the crock since putting a cold container in a pre-heated cooker may cause the stoneware to crack.


Many dishes like will taste best if you brown the meat in a frying pan before placing it in your slow cooker. Browning this way will seal the juices in the meat and provide more flavor. Although this step will make some dishes taste better, it is not absolutely necessary. Same goes for sautéing onions and garlic ahead of time, it makes for tastier results but is not necessary.
Crock pots come in a range of sizes from one to seven quarts. Be sure to use the appropriate size for your recipe so your cooker is at least half full. If it isn't and you only have one slow cooker, consider doubling or tripling your recipe and then freezing the leftovers. Because we are busy moms, we never just cook a single meal. We always cook enough so we have leftovers for lunches and another meal or two that we can squirrel away in our freezer for nights when we are short on time.
Slow cookers should cook food between 180 -200 degrees on the low setting and between 280-300 degrees on the high setting. From time to time you should fill the crock of your slow cooker ¾ full and let it go for 8 hours before quickly opening the lid and using a food thermometer to check the temperature.
Have a Favorite Whole Chicken Crock Pot Recipe You Would Like to Share?
What about that secret recipe your granny used to make that the whole family loved?

Share it with us now!

---
See more Healthy Crock Pot Recipes
---
---