Mother Teaches Daughter
We are often asked what are the most important things a mother teaches daughter. A mother teaches many things, and it isn't what she SAYS that is often most important – it's what she DOES. So the very best tip we can give you is to live your life the way you want your daughters to live theirs. That way it will feel familiar to them, and your example will be something they fall back on, especially in times of stress or uncertainty.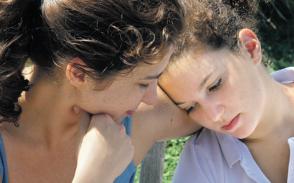 We can't over-state the importance of the mother-daughter relationship. Here we will give you tips for how to influence your daughter based on the values you consciously choose to pass down to her. At the same time, your daughter will grow up to be a woman with thoughts and opinions of her own.
Nothing will jeopardize your mother-daughter relationship more than trying to control or shape your daughter into something she doesn't want to be. So while we will give you tips for influencing her, recognize that it is just that, influencing. To have the very best mother-daughter relationship, you must let her go, usually around the time she becomes a teenager. You must support her in making her own decisions. You must be sure she knows you love her unconditionally – for the person she is.
Nothing will damage or prevent a close relationship between the two of you more than her feeling like you don't love her or you love her "despite" her not being everything you want her to be. To prevent this from happening, it is important to focus on values and not outcomes.
By this we mean, focus on passing down a commitment to education and your hard work ethic instead of forcing her into becoming a lawyer or scientist, or business woman like you. With an education and commitment to hard work she will seek out and flourish in the career of her choice. If she happens to want the same career as you, great! Just be sure that she knows you will love and respect her no matter what career she chooses or how many children she decides to have.
Mother Teaches Daughter – an Exercise in the Demonstration of Values
Next we present a variety of scenarios to get your creative juices flowing. Some are a little provocative - on purpose – we want to get you thinking about what you value most in life both for yourself and for your children. Read thru the following scenarios and then create a list of the interests and values you want to pass on to your daughter(s).
For each interest or value, list the activities that you currently pursue that support it. Then brainstorm for new activities you might want to consider as well - not necessarily right this moment - but activities you might want to consider for the future as well. What do you think is most important mother teaches daughter?
Mother teaches daughter about unconditional love
From the time your daughter is an infant you will be teaching your daughter about unconditional love. Studies have repeatedly shown that you can screw up almost everything as a parent, but your daughter and your relationship will likely survive as long as your daughter knows that she has your unconditional love.
You can best demonstrate your unconditional love thru hugs and saying "I love you" with no strings attached. When she is still very young, get in the habit of letting her know that even when you are angry with her, you still love her and that you always will.
Here's a tip some of us learned the hard way - If you can, come up with a couple code words or gestures that you both understand mean "I love you". These will come in handy later when she is a teenager and doesn't want overt demonstrations of love, especially in front of her friends. With your code words and gestures, you can still maintain your "lifeline" of love during her more difficult times.
Mother teaches daughter about life
While growing up, a daughter can't help but notice what activities her mother pursues and what her mother's role is in the family. The same way that boys look to their father for a model for living, girls do the same with their mothers. When stressed, people often fall back on what occurred in their own family growing up - which is why abuse, violence and alcoholism tend to run in families.
Even when children make a conscious effort not to repeat patterns, they will often fall back on bad models from their childhood when they are stressed, overly emotional or feeling trapped. So take a moment to think about what your role is in the family. What are your major contributions? Are they in alignment with what you want your daughter to value?
Mother teaches daughter about career choices
How do you feel about school? Did you go to college? Did you finish high school? The choices you make about your own schooling will have a great impact on what your daughter sees as her own choices. If you obtained a college degree, your daughter will see firsthand that obtaining a college degree is something she can aspire to. If you have a college degree, you will likely give off the impression that it is normal for people to finish high school and then move onto college.
What if you didn't go to college, but you desperately want your daughter to go to college? The very best thing you can do to demonstrate the value of education is to take classes yourself. Even if it isn't possible for you to complete a degree, by taking classes at your local community college you are demonstrating thru your actions that learning and education are important.
Mother teaches daughter about career choices
The choices you make for yourself are especially influential when it comes to your chosen work. Do you work outside of the home? Is your career something you do out of necessity (for the money) or because you love your work? Did you "fall into" your career or did you choose it? Would you rather be doing something else? Do you resent having to work? Your educational level and your feelings about your career will greatly influence what your daughter sees as options in her own life.
For example, a girl growing up with a mother that has an advanced degree and full-time career will learn first-hand that she has opportunities and independence in a way that a stay-at-home mother cannot demonstrate by example. She will also develop a strong sense of how to balance career and family – even though the balance she chooses for her own life may not be what her own mother demonstrated.
When the daughter of a stay-at-home mother who never finished high school gets her degree and goes to work, she will have to figure it out how to balance her career and family on her own or model her life after other women influences in her life - since her mother didn't personally provide an example for how to do it. She may struggle more when finding the right work/life balance and she may even grow up feeling guilty for wanting more from her life than what satisfied her mother.
What might you do to empower your daughter and to help her make the right choices for herself? If you want to help your child to pursue a career when you didn't, then the best thing you can do is connect your daughter with positive influences – other women that can act as mentors and provide advice – so that your daughter can see firsthand that it can be done as well as how to do it. You can also take the opportunity provided by having grown children to pursue a career or other passion of your own! The most important thing a daughter needs is her mother's love and encouragement!
Mother teaches daughter about self-worth
Our society can be very tough on girls. The media tells us that the way we look is most important. Between Hollywood's preoccupation with skinny girls and the current food trends - which emphasize foods guaranteed to make everyone obese - many girls grow up with priorities as skewed as their body image. Eating disorders are rampant. From not eating, to throwing-up food to over-dosing on diuretics, to an obsession with working out - a huge percentage of girls are focusing on how they can make their body fit a narrow definition of beautiful- not how to nurture it so that they will experience a lifetime of good health.
A mother that spends the majority of her free time in front of the mirror fixing herself up and/or obsessing about her weight will teach her daughter very different things about self-worth than a mother who spends her free time going on hikes, gardening and practicing yoga.
How do you feel about yourself? Do you feel good about your body? Do you nurture your body with healthy food, a variety of activities and plenty of rest? If you want your daughter to love herself and nurture her own body, think about what you can do starting now to demonstrate the values you want her to take on as her own.
Mother teaches daughter about developing personal boundaries
Let's talk about "super women" and the "martyrs". What do you suppose that a girl learns from a mother that tries to "do it all" and runs herself ragged making everyone else happy? Is this setting a good example of how to nurture herself? What kind of relationship is someone that is running themselves ragged going to have time for? What about a mother that lets her husband and her family boss her around constantly without ever expressing appreciation?
How does your husband treat you? Is he respectful and appreciative? How about your other children? Are they respectful and appreciative? What activities do you pursue for yourself? Remember, people take sacrifice for granted at the same time they find people with their own passions interesting.
If you want your daughter to discover and pursue her own passions, you need to do the same. If you want your family to respect and appreciate you, you need to demand their respect and appreciation by drawing your own boundaries so that you have time to pursue things that interest you. You deserve at least one hour each day that is just for you to do something you are interested in whether it be reading a book, painting a picture, taking a class or going for a walk.
Mother teaches daughter the value of hard work versus manipulating others to get what she wants
What about the mother that has no boundaries and sacrifices her entire life and all of her personal interests for her family? What if that same mother reminds her family about all of her "sacrifices" on a regular basis and uses that to get others to do her bidding? What is this teaching her daughter about her own desires? Is the mother-daughter relationship joyful or a burden for the daughter? What does that teach her daughter when it comes to building the life she desires versus manipulating others to get what she wants?
Remember, we are being intentionally provocative here in order to stimulate your creative juices regarding the kind of mother you want to be and the legacy you want to leave behind.
Again, the main point here is that your daughter is most likely to value the same things that you demonstrated by your actions as she grew up. If you DON'T want her to sacrifice her own life to others or to manipulate others to get what she wants out of life – rather than working to accomplish her own goals independently – then be sure that you are demonstrating a good example about creating plans, managing priorities and working to get what you want out of life.
A happy mother teaches daughter about finding her own destiny and the importance of realizing her dreams
What about the mother that is a full-time mother because she revels in being a mother and because she can't imagine doing anything else? Will that doom her daughter if she can't stay at home with her own kids? No way, we don't mean to give you that impression! Sure, you aren't setting an example for how to balance work and career, but you are setting a great example for reveling in family time and pro-actively choosing your own destiny.
Are you guaranteed that your daughter will learn the things you desire if you do everything "perfectly"? No, but you are giving her the best chances at the same time you create a life without regrets. To the extent you balance your own needs with your family's needs; you are setting the best possible example.
Mother teaches daughter about nutrition and health
Some mothers spend a lot of time cooking and nourishing their family. Others regularly swing by McDonalds and serve Happy Meals for dinner. In these two examples, the daughter is learning vastly different things about the importance of good nutrition. Some moms spend a lot of time cooking together with their children – both boys and girls – demonstrating the value of good nutrition and the importance of constructive family time.
A mother that takes her children hiking is teaching her children a very different thing than the mother that spends the majority her time in front of the television. If you want your kids to go outside and play, it is much easier to do that from outside the house that from inside on the couch!
Mother teaches daughter about how men should treat her
More than anything, a mother models the male/female relationship to her daughter. A mother that accepts physical and/or verbal abuse from her husband will teach her daughter something very different than a mother that insists on respect. Perhaps the most damaging thing about a mother staying in an abusive relationship is the example she is setting for acceptable treatment.
Unfortunately, these unstable and unpredictable situations become familiar and something that her daughter may crave in the future. She may confuse love with dysfunctional behavior because that was the kind of relationship her parents had growing up. Some girls even grow to crave the intensity of the highs and lows and are unable to appreciate stable, loving relationships as adults.
Mother Teaches Daughter – Create a list of the values you want to instill in your daughter(s)
Now that we have gotten you thinking about what values you want to pass down to your daughter(s). It is time for you to create a mission statement for your family that highlights these values.
Example Mission Statement:
To be happy and extremely healthy with plenty of money, togetherness, love, family time, adventure, fun, laughter, interesting projects, constant learning and growth, commitment to education, appreciation of nature, affection, mutual support and deep respect.
Next take a piece of paper and create a little table. Write each value on the left hand side with the value you prioritize most highly at the top and the least at the bottom. To the right of each value, write down the activities that you currently pursue on your own in support of each. To the right of that, list the activities you do regularly together with your children for each value.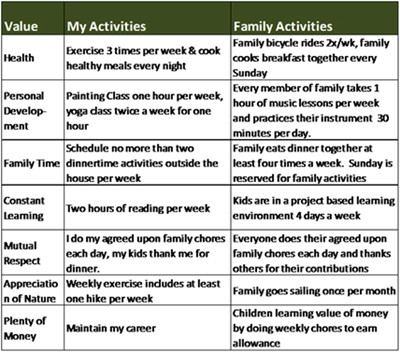 Next, share your table with your husband and children. Create additional columns for each family member to document the activities they do individually in support of each value. Ask them to contribute additional value to the table as well. You don't need to have every box filled out.
Finally, post your list of family priorities somewhere where they are visible to all (refrigerator, framed on wall). As soon as your children are old enough talk, explain what each value means to you and why you think it is important.
As your children get older, hold regular family meetings to discuss family and individual priorities and goals. Ask your kids for input on the activities you do together. Build and agree upon a family schedule that is in alignment with your family values. Evaluate new activities and changes in the family's schedule & activities based on these "family priorities".
Mother Teaches Daughter - In Conclusion
There are all kinds of successful mothers out there. Our best advice is to provide your daughter unconditional love and to demonstrate thru your own actions the values you wish her to have. We hope this article will help you proactively be the kind of mother you want to be!
For family activity ideas read Toddler Activities
A popular song with a great message for girls "Just the way you are" by Bruno Mars
---
Tell Us What You Think!
What is the most important thing you want to teach your daughter?

What is the most important thing that your mother taught you and how did she do it?

Do you have any tips for cultivating a strong mother-daughter relationship?
---
Natural Parenting Advice
| Mother Teaches Daughter
---
© 2005-2016 Natural-Parenting-Advice.com | All Rights Reserved
Terms of Use | Disclaimer | Privacy | Disclosures
All information is provided for informational purposes only. Unless otherwise noted, the site content is not written by doctors or other health care professionals and is not intended to be or to substitute for medical advice, diagnosis, or treatment. You should always seek the advice of a physician, nurse, midwife or other health care professional regarding your individual medical questions and treatment.