Can I Swim While I am Pregnant?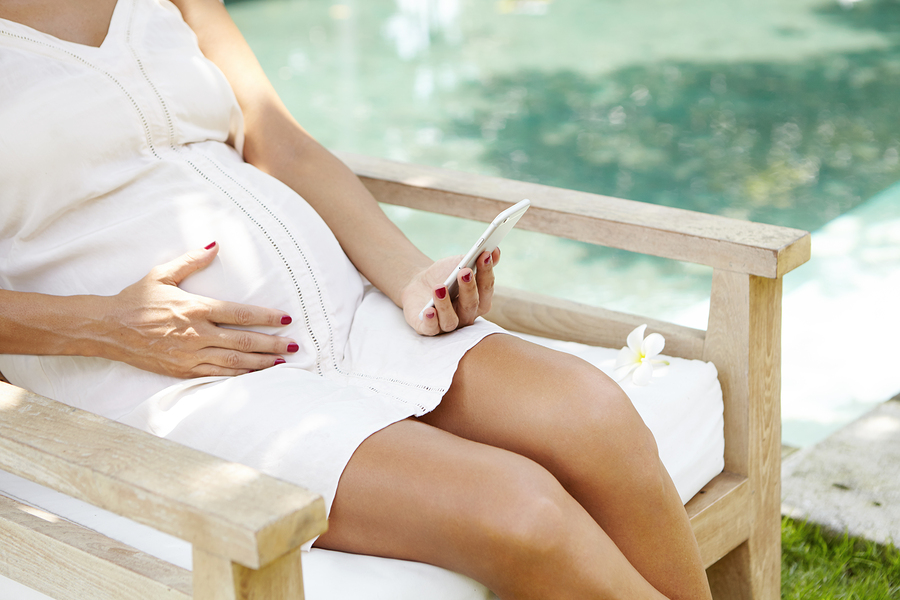 Absolutely. Swimming is considered as one of the safest exercises you can engage in during pregnancy. If you have a healthy viable pregnancy, you should strive to engage in regular exercise. Just be sure to check with your midwife, physiotherapist or doctor before you start if swimming is totally new to you. Swimming Is one of those exercises that keep you fit without taking any toll on your body, which will make it a little easier to adapt to pregnancy. It will also make you feel better about your changing body. 
Swimming is particularly well suited for pregnancy as the water helps to support your extra weight. This would be a huge relief, most especially in the third trimester. And unlike most other forms of aerobic exercise, swimming is a good way to feel cool.  
However, the swimming pool should not be warmer than 32 degrees C. You really do not have to worry about this, though; most public pools in the United States are cooler than this unless they have been heated for a specific class. Though, you may want to ask about the temperature of the pool if you are abroad. 
Swimming also helps to:
•    reduce swelling and fluid retention
•    ease aches and pains
•    improve circulation
•    boost heart and lung function
•    burn calories, which helps to manage weight gain
•    promote good sleep
•    build endurance
•    increase muscle tone and strength
•    fend off fatigue
Get all of our best pregnancy tips. Download our free e-guide today!
Learn how to avoid Gaining too much weight, strategies for Avoiding gestational diabetes and secrets for an easy delivery.

If you were a consistent swimmer before you became pregnant, you should, by all means, be able to continue with your normal routine. Even if you have never exercised before, swimming is healthy and safe to take up when you are pregnant. Swimming in a chlorinated pool is not known to be harmful to your baby or you. It's also safe for you to swim throughout your pregnancy, up until you deliver your baby. 


Regardless of your proficiency in swimming, when you are pregnant, you should start slowly and gradually and work up to sessions of up to 30 to 40 minutes long. Also make sure you cool down and warm up gradually, and remember not over-exert yourself. You should always come out of the pool with the feeling that you could do more. 
Choose a stroke that you feel comfortable with and enjoy. If possible, you should alternate between swimming on your front, and floating on your back, while gently kicking your legs. This will ensure you have a good all-around workout.  However, you should take care not to arch your back. 
Need to Talk To Someone?
Do be very specific or personal questions you do not feel comfortable discussing in public forums? If so, please meet signing up for a 60 minute mentoring session.

Pregnancy & Childbirth Mentoring

You will be amazed at the Amount of information and can gain confidence in just a few minutes of one-on-one help. 
You should choose a swimming stroke other than the popular breaststroke if you have any problems with aches or pain at the front of your pelvis, as it has the potential to make the pain worse. You may want to ask your midwife or doctor to refer you to a physiotherapist. It is absolutely possible for you to swim breaststroke again after treatment.  If for any reason you feel unwell, or experience any unusual symptoms such as bleeding or pain, stop your swimming sessions and talk to your midwife or doctor.
Though pregnancy exerts a lot of physical pressure on your body, it does not stop you from exercising. And one of the best exercises you can engage in to remain in top physical and mental conditions during pregnancy is swimming.
More Pregnancy Information You Might Be Interested In
Read more about the Importance of a Healthy Diet, especially for unborn babies, children and nursing moms.
Read more about what comprises a Healthy Pregnancy Diet .
Worried about weight gain? Weight Gain in Pregnancy is a huge concern for many women. Here's what you need to know and your doctor is unlikely to tell you.
Childbirth can be an endurance event. Read about a few important Pregnancy Exercises you should be doing to prepare your body for your baby's birth.
See some Healthy Crock Pot Recipes that can make meal preparation easy, including some super-easy bone broth recipes.
Visit our
Natural Pregnancy Forum
to read stories and ask questions of the community.
---
---