Crock Pot Pot Roast Recipe
---
Simple yet succulent, this easy crock pot pot roast recipe is a wonderful way to enjoy cheaper cuts of grass-fed beef. Throw it together in the morning and forget about it until dinnertime.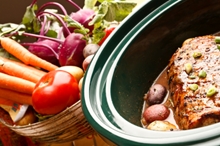 Servings: 6-8
Yield: 6 servings with some leftovers
Preparation time: 30 minutes
Cooking time: 10 hours
Ready in: 10 hours and 30 minutes
Ingredients for this Crock Pot Pot Roast Recipe
3-4 lbs chuck roast or rump roast
1 quart buttermilk or plain whole milk yogurt
4 tablespoons butter
1 cup red wine vinegar
2 cups beef stock
1 tsp green peppercorns, crushed (or black pepper)
1 tsp thyme or rosemary (or several sprigs fresh tied together)
1 pound carrots or parsnips peeled and cut into sticks
1 dozen small red potatoes washed and cut into quarters
2 tablespoons arrowroot powder or flour
Sea Salt
Freshly ground black pepper
Procedure for this Slow Cooker Pot Roast Recipe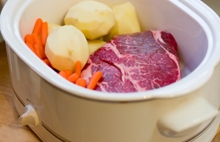 Pound meat lightly or pierce all over and marinade overnight (or up to a couple days) in the refrigerator in a large bowl with the buttermilk or yogurt.
Remove meat from bowl, dry well with paper towels, discard yogurt / buttermilk.
Using the butter to prevent sticking, brown all sides of the meat in a heavy fry pan to seal in the juices. (You can skip this step if you are in a big hurry.)
Place cut-up potatoes and carrots in bottom of 7 quart crock pot. Place browned meat on top. Scrape any crispy bits left-over in the fry pan on top
Pour the wine and stock over the meat and veggies in the crock pot. Sprinkle the thyme and peppercorns on top.
Cover and cook for 10 hours on low or 5 hours on high. If at home, you can set your slow cooker on high for first 3 hours then turn down to low for 4 hours.
Remove meat and veggies to a platter. Remove thyme (if using fresh). Pour sauce into large frying pan and bring sauce to a boil on high heat. Alternatively, simply remove the cover and turn your crock pot to high after removing the meat. Allow to reduce by almost half and season with salt and pepper.
To thicken sauce, add some flour or Arrowroot powder that has been mixed well with cold water.
Cooking Tips for this Easy Pot Roast Recipe
For thicker gravy: Add some flour or Arrowroot powder that has been mixed well with cold water.
For Gluten Free: Use Arrowroot powder or light buckwheat flour (both available from www.nutsonline.com) to thicken gravy. Both make wonderful wheat-free gravy!
For No/Low Carb: If using guar gum / xanthan then add to sauce and blend in blender on high BEFORE putting into fry pan and reducing.
A great way to reheat your pot roast: Place slices of pot roast on plate (1 layer thick) along with the potatoes and carrots/parsnips (again only single layer). Pour sauce over potatoes and meat and heat in oven at 350 degrees for 20 minutes. Sauce keeps meat from getting too dry.
Source for this Slow Cooker Pot Roast Recipe
This Crock Pot Pot Roast Recipe was adapted for crock pot by Maria from Nourishing Traditions by Sally Fallon with Dr. Mary Enig, page 340
---
---