Chicken Corn Chowder Recipe
Chipotle Chicken and Corn Chowder
---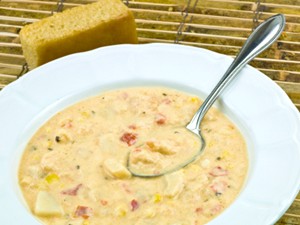 Our favorite Chicken Corn Chowder Recipe, try this zesty, easy-to-make, crock pot corn chowder recipe on a cold night. This southwestern dish provides variety and you can make it spicy or mild depending on how much chili powder you add. For spicy try using Ancho Chili powder. (Available at Whole Foods) For milder, try New Mexican Chili powder and/or omit the chili powder altogether. This flexible dish is great with and without the chili powder.
Serve with a freshly tossed green salad and some garlic bread for a great summer dinner. Or pair with your favorite green veggie on a cold winter evening.
Ingredients for our Chicken Corn Chowder Recipe
1 lb Boneless/Skinless/Free Range Chicken Breasts and or Thighs, cut into 1-Inch Chunks
1 Large Organic Potato Cut Into 1-Inch Chunks
1/3 Cup Dehydrated Organic Potato Flakes
1 Cup Shredded Organic Cheddar Cheese (Sharp)
2 Cups Fresh Organic Corn (can substitute Frozen Organic Corn)
4 Chopped Scallions (or Green Onions)
1/2 Red Bell Pepper
1/4 Teaspoon Ground Black Pepper
1 Teaspoon Fresh Organic Garlic
1-1/2 Tablespoons Chipotle Seasoning
1/2 Teaspoon Chili Powder (optional)
1/2 Cup Free Range Organic Chicken Broth (homemade is best)
1 cup Organic Whole Milk


Procedure for our Chicken Corn Chowder Recipe
Mix together the chicken, potatoes, spices and liquids. For more flavor, wait and add the chipotle seasoning later in the cooking process (when you add the corn and scallions)
Cover and cook on a low setting for 3 hours
Add the corn, red bell pepper and scallions
Cook for another 2-3 hours on low or until potato chunks are tender and chicken is completely cooked, all the way through
To thicken, stir in the potato flakes and turn the crock-pot setting to high
Cook the chowder uncovered for an additional 5 to 10 minutes until chowder has thickened and the potato flakes have completely dissolved
Top with shredded cheese before serving

Cooking Tips for our Chicken and Corn Chowder
If you want a more potent flavor; use yellow or red onions, in place of the scallions.
If you are serving people with varying tolerance for spiciness: Consider adding the chili powder to the individual servings.
For a thicker result: add more dehydrated potato flakes, until desired thickness is achieved, until desired thickness is achieved.
For Gluten Free: This chicken and corn chowder recipe is already gluten free!
Use all USDA organic ingredients: Corn in particular is almost always genetically modified if it isn't labeled organic.
Source for our Chicken Corn Chowder Recipe
This Chicken Corn Chowder Recipe was submitted by Suzanna Cary from Fort Worth, Texas

What Would You Like To Do Next?
See more Healthy Crock Pot Recipes that can make meal preparation easy at the same time you provide your family nutritious food.
Read about the Importance of a Healthy Diet, especially for babies, children and nursing moms.
Did you know that the USDA Dietary Guidelines will make you tired and overweight? Read about our time-tested Healthy Eating Pyramid
Read more about Traditional, Nutrient Dense and Organic Diets as well as the importance of consuming unrefined food.
Read about Fun Activities to do with your kids.
Visit our Natural Parenting Forum to read stories and ask questions of the community.
---
---